Do you want to improve your skin health? Try a milk and honey bath this weekend to pamper your skin.
If you combine honey with milk for a skincare routine, you will probably get multiple health benefits. The honey and milk bath will your skin treat infections, irritations, inflammatory effects.
Both the ingredients are skin-benefiting agents that help you nourish, soften, and cleanse your skin. In this article, we cover the special properties and benefits of honey and milk bath.
Let's first understand their special skin-benefiting properties.
Properties of Honey and Milk
Milk is a rich source of vitamin and mineral content. It has a fair amount of vitamins A, B, D, lactic acid, calcium, and animal protein that naturally soothes your skin.
Honey is rich in antifungal, antibacterial, and antioxidant properties, which can provide anti-inflammatory and soothing effects.
However, mixing both ingredients can do wonders by giving you glowing and radiant skin. Milk and honey are commonly available ingredients, used in several beauty regimes. You can also add rose petals and essential oils for more fragrance or flavor.
Let's look at the significant benefits of milk and honey bath.
Benefits of a Milk and Honey Bath
Instead of purchasing creamy milk and honey concentrated commercial products, you can create your milk and honey bath at home. It offers many skin-related benefits, such as soft, smooth, vibrant, and plain-looking skins.
Check out these fantastic benefits of having a milk and honey bath, which includes-
Provides you a Smooth Skin
A milk and honey bath provide your skin soft and smooth.
The fat and protein content in the milk helps to exfoliate your skin and enriches your bathwater.
The milk has lactic acid, which cleanses your dead skin cells and hydrates the skin dryness.
Free from Skin Irritations
If you suffer from skin irritation or infections such as eczema, you must take a honey and milk bath for healthy or young-looking skin.
It helps your skin by providing essential nourishment and moisturization.
The antimicrobial and antibacterial properties of honey help your skin heal the effect created by skin irritation.
READ MORE: Get Rid of Dark Lips With These Easy And Amazing Tips.
Anti-Aging Combination
Both honey and milk have rich antimicrobial and cleansing properties.
That is why most of the cleansers are formed using these two elements.
If you are regularly taking honey and milk bath, you will get many other health benefits apart from skin cleansing. It will help you slow down the aging process by keeping your skin young and pretty.
It reduces cellulite dimples from areas such as hips, upper arms, and thighs. Both honey and milk have many nutritional benefits as they can remove fine lines and wrinkles from the face.
They both have high antioxidants that attack harmful free radicals and flush them out from the skin. This, in turn, helps your skin to avoid wrinkles, folds, or creases.
Relax and rejuvenate your body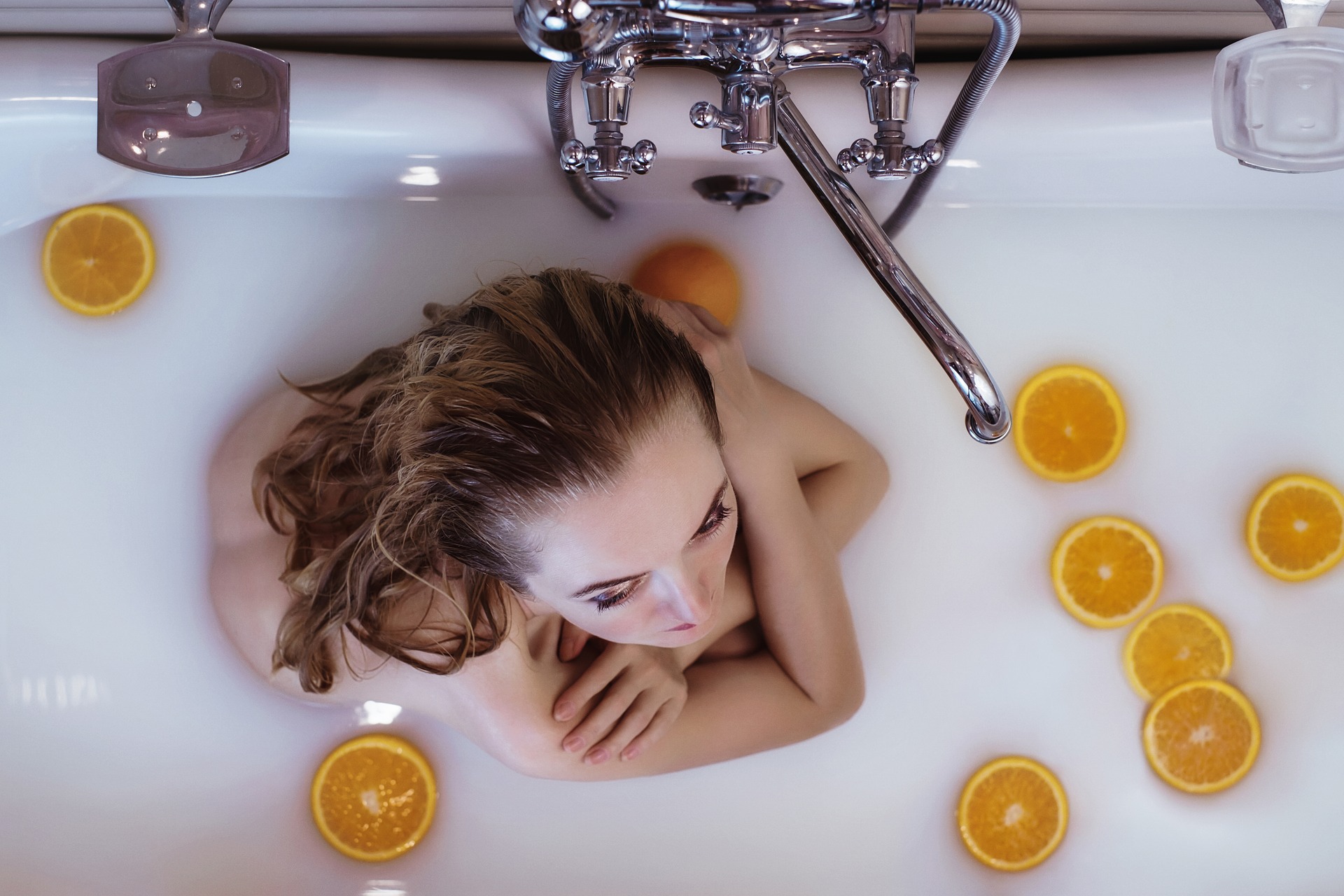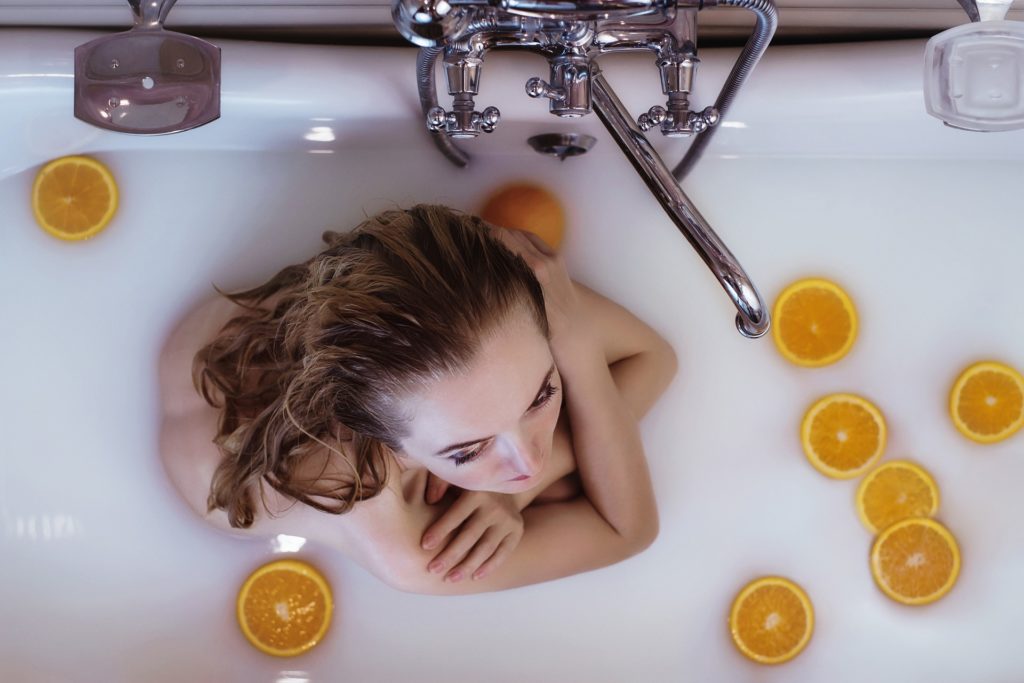 Milk and honey both have great cleansing properties that can do wonders when mixed.
If you soak in honey and milk, it will help you relax your nerves. Both the ingredients have a fresh and rejuvenating effect on your skin.
It soothes skin by providing a smooth and healthy-looking appearance to your skin. You must experience the excellent spa cleaning for about one or two times a week for a fresh look. If you want to add some scented flavor to your bath, you can use sea salt or lavender essential oils for a fantastic fragrance.
If you wish to make a soothing ambiance along with the fresh bath, you can play some melancholic tunes to relax your mind even more.
PRO TIP: You must know your skin type to choose the correct method to make it healthy.
Recipe to Make a Honey And Milk Bath
Honey and milk both have high nourishing properties that can help your skin remain moisturized for a longer duration. If you are exhausted from your hectic schedule of 9 to 5, you must pamper yourself this weekend with special honey and milk bath. Follow the below-mentioned procedure to nourish your skin!
Ingredients required-
One cup of fresh honey
Half cup of sea salt
One cup of boiling water
Two cups of milk
Three tablespoons of baking soda
Follow the below steps-
First, boil water with honey. Mix it well until the honey dissolves entirely with water. Allow it to cool down for some minutes.
Now add milk to the mixture and stir it well.
Add salt and baking soda to the running water.
Lie down in the bath, relax and rub your skin to remove dead skin cells. Stay there for a few minutes, and you'll get a glowing result afterward.
Experts recommend that you must have a honey and milk bath for about 1 or 2 times a week. Honey and milk are the healthy ingredients that can help your skin flush out the toxic elements. It can make your skin look young and healthy by removing dead skin cells from the skin.
Final words
Take out some time and follow a skincare routine for healthy and glowing skin. Now you don't need to go to the expensive saloon for a quick glow; you can easily get it by having a milk and honey bath.
Milk and honey enrich the bathwater by giving it multiple nutrients, vitamins, and healthy skin-benefiting elements.
Try a honey and milk bath at home to get soft and smooth skin.
Comment down below if you found this article helpful.