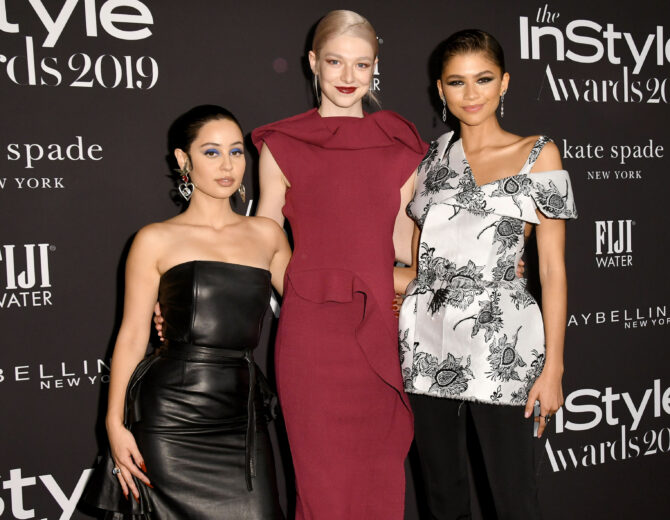 Fans have been intrigued by Zendaya's sexual orientation, wondering is Zendaya gay or if Zendaya is bi for quite a while. Let's uncover what initially sparked these rumours.
Zendaya is a highly skilled American entertainer involved in acting, singing, and fashion. Her birthplace is Oakland, California, and she gained widespread recognition for her exceptional talent and endearing personality. During her early years, she also pursued a career in modelling, but she is most well-known for her role as Rocky Blue in the Disney Channel series "Shake It Up."
However, similar to other celebrities in the entertainment industry, Zendaya has been the subject of rumours regarding her sexuality. Her fans have begun to speculate. Is Zendaya gay? Let's take a closer look to uncover the truth.
Career
Zendaya became a well-known actress thanks to her role as Rue Bennett in the hugely popular HBO series "Euphoria." Her exceptional performance in the show earned her numerous awards, including an Emmy.
But her success extends beyond television. She has also appeared in popular movies like "Spider-Man: Homecoming," "Spider-Man: Far From Home," and "Dune." People enjoy her acting in these films, and so do the critics.
And here's the cool part: Zendaya is a fashion icon. She consistently looks stunning on the red carpet and significantly impacts the fashion industry. With her talent, style, and hard work, Zendaya is building a solid presence in the entertainment world, and she's a highly influential and talented figure.
How The Zendaya Is Gay Rumor Started
We don't have exact details on when Zendaya and Tom Holland began dating, but Spider-Man fans are thrilled that they've taken their on-screen chemistry into a real relationship. Nevertheless, these developments haven't completely put an end to speculations about Zendaya's sexual orientation.
Even though Zendaya and Tom Holland appear to be ready to take their relationship to the next level, discussions about the actress's sexuality have persisted. While Zendaya has been a strong supporter of the LGBTQ+ community, she hasn't explicitly disclosed whether she identifies as bisexual or gay. However, Something noteworthy occurred during a recent interview.
In February 2021, Zendaya participated in a quick Q&A with Vanity Fair, and with a single response, she ignited excitement among her fans. When asked, "What is the quality you most like in a man?" Zendaya slightly adjusted the question to encompass both men and women in her answer. This subtle alteration sparked conversations and raised questions about her true feelings more than ever before.
Zendaya Advocates For LGBTQ+ Representation In Hollywood
People have been curious about Zendaya's sexual orientation for a few reasons. She's strongly supported LGBTQ+ culture and has actively challenged traditional ideas about gender. She can rock both suits and dresses, which shows her diverse style. Her character Rue in Euphoria also addressed gender identities and queerness, which got people thinking.
However, Zendaya has yet to share much about her preferences.
Then, there was a tweet that went viral, claiming Zendaya was seen at a gay bar. Fans were amazed. They wondered if this was the proof they had been waiting for. The tweet suggested that it wouldn't be surprising to see her at a gay bar, which got fans excited.
Many of her fans are from the LGBTQ+ community, mainly because of her role in Euphoria. So, lots of people are eager to know more about her orientation.
Later, it was revealed that the tweet was false, but fans are still curious and have not given up on finding out.
Zendaya Corrected A Gendered Question About Her Relationships
In a recent interview where she answered 35 questions, Zendaya discussed various topics, providing fans with exciting insights about herself. For instance, she mentioned that the person she dislikes the most has a name that rhymes with "dump." She also opened up about her biggest fear, which is the fear of disappointing the people she cares about.
On a more positive note, Zendaya used the interview to share her thoughts on maintaining a positive outlook, Something she actively promotes. She once expressed, "Something is empowering about women embracing their sexuality.
I believe that as long as it's done in a way that empowers women and focuses on them, rather than objectifying or catering solely to men's desires, it can be very empowering."
However, what caused a stir on the internet during this interview was her response to the question, "What is the quality you most like in a man?" Zendaya wasn't comfortable with the assumption that this question implied she was heterosexual.
Given her support for LGBTQ+ ideals, she corrected the interviewer by saying, "How about I tell you the quality I most like in a person?" She elaborated, "It's a big question, but what I appreciate most in someone is kindness. Although that might not be the best word, some people radiate goodness, and you can sense it."
Is Zendaya Bisexual?
In a surprising turn, the next question for Zendaya was, "What is the quality you most like in a woman?" She laughed, saying, "Well, I guess that's the same answer." Zendaya needs to distinguish between men and women regarding the qualities she admires. This led some fans to think she might be open to dating people of any gender, and they were excited about it.
One person commented, "When she said 'quality I most like in a PERSON,' how about that? My bi radar started BEEPING." Another fan expressed, "I was eagerly waiting for THAT question… Girl, I had to see it for myself." Lastly, a fan pointed out, "Well… we all know why the LGBTQ+ community is paying attention to this."
Although Zendaya didn't explicitly state that she identifies as bisexual, it seems that she prefers not to confine herself to a specific label. The actress has also emphasized that young people should have the freedom to explore without feeling pressured to label their sexuality too early.
At the same time, some fans believe that Tom Holland is the right person for Zendaya and that she identifies as heterosexual.
Is Zendaya Gay?
While Zendaya has never openly discussed her sexuality, there was a time in an interview when she suggested that she could be bisexual or pansexual. However, as far as the public is aware, she has only been romantically linked with men in the past.
She's in a relationship with her Spider-Man: Homecoming co-star, Tom Holland, and they appear to be quite content. Until Zendaya decides to have a candid conversation about her sexuality, we can only speculate. At this moment, it's reasonable to assume that she identifies as heterosexual.
Read More: "Is MGK Gay? Machine Gun Kelly's Sexual Orientation: Prepare to Be Surprised!"