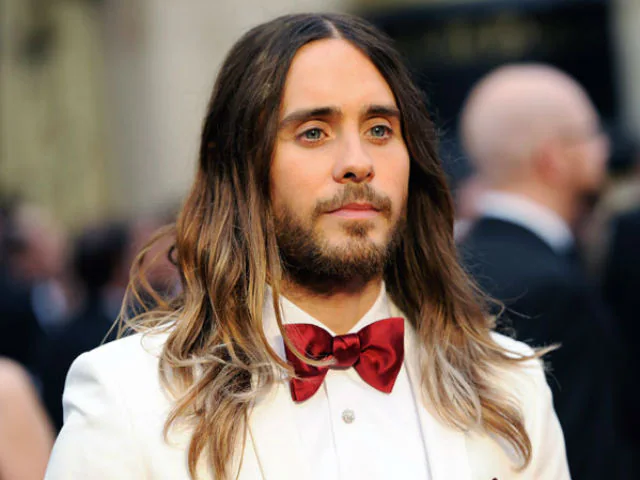 Ever since Jared Leto portrayed Rayon in the 2013 film Dallas Buyers Club, there has been a lot of interest in his romantic life. Let's delve into his career and investigate the rumours surrounding Is Jared Leto Gay?
Who Is Jared Leto?
Jared Leto, born in Bossier City, Louisiana, is an American actor and musician. His family led a mobile lifestyle because of his grandfather's Air Force career, and his mother's involvement in a hippie commune sparked Leto's interest in the creative arts.
His journey in the entertainment world started with supporting roles in movies like How to Make an American Quilt and Switchback. However, it was his breakout role in the 1997 biopic Prefontaine, where he portrayed Olympic long-distance runner Steve Prefontaine, that launched his career. He featured in popular films like Girl, Interrupted, Fight Club, and American Psycho.
Simultaneously, Leto was pursuing his passion for music. He co-founded the band Thirty Seconds to Mars with his brother Shannon, actively engaging in music recording and touring.
Method Acting History
Leto is widely recognized for his dedicated method of acting, and he's known to take it to the extreme. In the 2007 film Chapter 27, where he portrayed John Lennon's assassin, Mark David Chapman, Leto went to extraordinary lengths. He gained so much weight that he developed a condition known as gout, and he had to use a wheelchair for mobility. While filming Suicide Squad in 2016, where he played the Joker, Leto sent unconventional gifts to his fellow cast members, such as beads, condoms, and even a deceased rat.
For his role as Rayon, Leto took his commitment to another level. He underwent extensive transformations, including waxing his entire body, shaving his eyebrows, losing 30 pounds, and staying in character even when the cameras weren't rolling. Director Jean-Marc Vallée, who collaborated with Leto on Dallas Buyers Club, disclosed that he only got to know the "real Jared" months after they completed filming. Vallée recounted, "The first time I ever even Skyped with Jared, he was already wearing a dress and a wig, putting on lipstick and making advances towards me. He then arrived on the set dressed in a wig and a dress, and he always spoke and acted exactly like Rayon."
Leto's most recent role was in the 2022 Marvel/Sony superhero film Morbius, in which he portrayed Dr. Michael Morbius. Regrettably, the movie didn't perform well at the box office and in critical reception.
Is Jared Leto Gay?
It's evident that Jared Leto is considered one of the most talented actors in his generation, although some have raised questions about his choice of roles.
In 2013, he took on the role of Rayon in "Dallas Buyers Club," and his outstanding portrayal of a queer character facing a terminal illness earned him his first Academy Award. However, this performance stirred up rumours about his sexual orientation.
He also portrayed Andy Warhol, who was openly gay, in a biographical film.
When confronted with the gay rumours, Leto responded somewhat enigmatically, saying,
"I'm not gay, but that rumour seems to persist."
In a 2014 interview with FourTwoNine magazine, he mentioned that he was comfortable with the label of being called queer. Instead of dispelling the rumours, this statement only added more intrigue to the topic.
Flamboyant Fashion Statements
Indeed, in addition to his work in the entertainment industry, Jared Leto is well-known for his distinctive fashion sense, both when he's on the red carpet and in his everyday life. He has a close working relationship with Gucci's creative director, Alessandro Michele, who was the visionary behind Leto's memorable look at the 2020 Met Gala. During that event, Leto made a striking appearance in a long turtleneck dress adorned with a string of diamonds, all while carrying a lifelike model of his head.
At the 2022 Met Gala, Leto once again flaunted a stylish outfit crafted by Michele. This time, Leto's attire perfectly complemented what the designer himself was wearing. Leto donned a cream-coloured tuxedo adorned with glittering flowers, a red satin bow tie, leather gloves, and his iconic long, flowing locks.
It's essential to recognize, however, that Leto's bold and unconventional fashion choices don't necessarily provide insight into his sexual orientation. A person's clothing preferences and gender expression differ from their sexual orientation and gender identity. Many straight, cisgender actors and public figures also enjoy experimenting with clothing and fashion, as it offers a means of creative self-expression available to everyone.
Criticism Surrounding LGBTQ Roles
When Jared Leto won the Golden Globe for Best Supporting Actor for his performance as Rayon, it ignited a long-standing discussion about the potential drawbacks of having heterosexual actors portray queer characters.
Some people argued that the film "Dallas Buyers Club," in which a man in drag played a trans woman, could reinforce harmful stereotypes about transgender individuals. Jos Truitt, a writer for Feministing, expressed this viewpoint by saying, "Regardless of the film's overall impact, the narrative around this movie, with a man in drag portraying a trans woman, perpetuates the stereotype that we are merely men in drag."
Leto's acceptance speech also received criticism for not acknowledging the individuals living with HIV who inspired the story. Additionally, he faced backlash for making jokes about the physical transformations he underwent for the role, highlighting a reality that transgender individuals experience daily.
Despite the controversies, in August 2020, Leto revealed that he would be playing Andy Warhol in an upcoming biographical film. He expressed excitement about this opportunity and paid tribute to the iconic artist.
Jared Leto's Relationships
Given all the speculations about Jared Leto's sexuality, it's important to clarify that he has been in multiple relationships with individuals of the opposite gender. Now, let's delve into Jared Leto's romantic history, which includes connections with some notable figures.
Jared Leto's Romantic History Over the Years:
Jared Leto and Cameron Diaz (1999 – 2003)
Jared Leto and actress Cameron Diaz were reportedly engaged and started dating in 1999. However, they broke up in 2003, and the reasons for their split remained private.
Jared Leto and Scarlett Johansson (2004, 2012)
In 2004, Jared briefly dated actress Scarlett Johansson, which drew attention due to their 13-year age difference. In 2012, they briefly reconnected but didn't stay together.
Jared Leto and Ashley Olsen (2005, 2008, 2011)
Jared Leto had an on-and-off relationship with Ashley Olsen beginning in 2005. They attempted to rekindle their relationship in 2008 and 2011, but it didn't endure.
Jared Leto and Lindsay Lohan (2006 – 2014)
Jared had a relationship with actress Lindsay Lohan starting in 2006 when they met on the set of "Chapter 27." Their relationship had its ups and downs and reportedly continued until 2014.
Jared Leto and Paris Hilton (2008)
Jared Leto was rumoured to have had a brief fling with Paris Hilton after they were seen together at the 2008 Sundance Film Festival.
Jared Leto and Nina Senica, Katharina Damm (2011)
In 2011, Jared was spotted with European supermodels Nina Senicar and Katharina Damm, leading to rumours that he was dating both models separately.
Jared Leto and Chloe Bartoli (2013)
Jared Leto was reportedly involved with Chloe Bartoli in 2013, describing their relationship as "friends with benefits." They briefly reconnected in 2018, but it didn't last long.
Jared Leto and Lupita Nyong'o (2014)
Jared was linked to actress Lupita Nyong'o in 2014, although they never confirmed their relationship. Lupita mentioned they had a connection that went beyond dating rumours.
Jared Leto and Miley Cyrus (2014)
In 2014, rumours circulated that Jared Leto and Miley Cyrus were dating. Despite their significant age difference, they were said to share common interests.
Jared Leto and Katy Perry (2014)
In 2014, Jared Leto was linked to Katy Perry, though limited information was available about their alleged relationship.
Jared Leto and Valery Kaufman (2015 – 2022)
Jared was connected to Russian model Valery Kaufman in 2015. They were seen together multiple times, with occasional public displays of affection, but never confirmed their relationship. They were in an on-and-off relationship until they officially parted ways in 2022.
Jared Leto and Halsey (2016)
Jared Leto was linked to singer Halsey after they were seen together at Coachella in 2016. Their close interaction at the festival sparked dating rumours.
Jared Leto and Thet Thinn (2023)
Following his on-and-off relationship with 28-year-old model and actress Valery Kaufman, rumours have arisen that the 51-year-old actor is currently dating Thet Thinn, a 27-year-old Burmese model and alum of Asia's Next Top Model. The couple was recently seen together in Berlin.
Is Jared Leto Gay?
No, Jared Leto is not gay. Because he has exclusively been in relationships with women, it's a logical assumption that he is heterosexual. While a few fans have speculated that he could be bisexual, there is no solid evidence to support such claims.
Read More: Is Sal Vulcano Gay: Unveiling the Impractical Jokers Star's Coming Out Journey