You can get ear piercing at target, but not all Target stores provide this service. Currently, only 50 Target stores have it. You don't need any special requirements to get your ears pierced at Target.
Rowan is an ear-piercing company that shook hands with Target to do ear piercings for Target's clients. Registered nurses from Rowan perform ear piercings at Target.
Fashion is a dynamic and ever-changing industry. Trends come and go, and one currently the popular trend is ear piercing.
Piercing your ears is a simple and painless way to express your individuality and add some flair to your appearance. If you're interested in getting your ears pierced, Target is a great option.
Let's explore every option related to ear piercing at Target.
Target Ear Piercing – Overview
Yes, you can get your ears pierced at Target! It's a popular place to get pierced because it's affordable and easy. When you're done, you can choose from a lot of different types of jewelry to wear.
The company that does the ear piercing at Target is called Rowan, and they're really good at what they do. Rowan has been piercing ears for over 25 years, so they know what they're doing.
If you haven't heard of Rowan before, they are the biggest company for piercing ears in North America. They offer piercing services at Target and other famous stores such as Claire's and Ulta.
You can use the store finder on their website to find a Rowan location near you.
Ear Piercing at Target With Professionals
If you're planning to get your ears pierced at Target, don't worry because they only hire trained and licensed professionals to do ear piercing. All of the piercers at Target are trained by Rowan, which is the largest ear-piercing company in North America.
Before they are allowed to pierce ears at Target or any other location, they must complete an extensive training program that includes online and in-person components.
So, you can trust that you're in good hands when you get your ears pierced at Target.
ALSO READ: Double Nose Piercing: A Complete Guide
How Much is Ear Piercing at Target
The cost of getting your ears pierced at Target may vary depending on the type of earrings you choose. The basic piercing fee is $55, including the earrings used for the piercing and an aftercare solution to take home.
If you want to choose a higher quality earring, you can upgrade it for an extra cost. For instance, stainless steel earrings will cost around $50 to $55, while 14K gold options start at $75 and can be more expensive.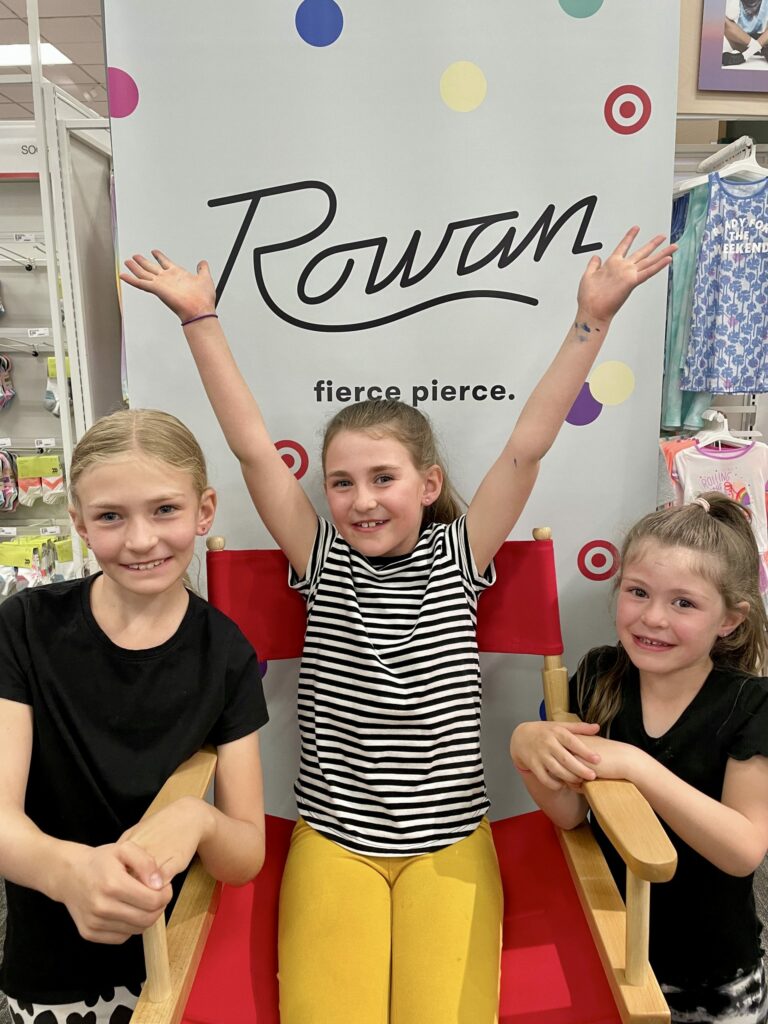 How Does Rowan at Target Do Ear Piercing?
If you've decided to get your ears pierced at Target, you are on the right path. First, you must choose the earrings you want to wear.
When you get to the store, head to the Guest Services desk and tell them you want to get your ears pierced. They will then direct you to the Rowan Ear Piercing station.
There, a professional ear piercer will ask you some questions to make sure you are ready for the piercing process. They will then clean your ears with a sterile solution and mark the spot where they will pierce your ear.
Once everything is lined up, they will quickly pierce your earlobe with a sterile needle and insert the earring.
After the piercing, they will clean your ears again and apply some ointment to help the area heal. They will give you instructions on how to take care of your new piercing, including a list of things to avoid doing during the healing process.
The whole process usually takes less than five minutes. It's important to take good care of your new piercing and follow your instructions to ensure that it heals properly.
Rowan Ear Piercing Steps
Getting a Rowan piercing involves four steps: getting ready, preparing the area, getting the piercing, and taking care of it afterward. These steps are important for making sure you have a comfortable and safe piercing experience.
Rowan nurses talk to the person getting pierced, explain different types of piercings, and ask for identification if necessary.
You get to choose which type of earrings you want for the piercing.
The nurse applies numbing cream to the ear and waits for it to work.
The nurse checks the type of earlobes and confirms the earring selection.
The nurse wears gloves, sterilizes the ear and piercing device, and loads the earring onto the device.
The nurse marks the point to be pierced and checks with the client in the mirror.
The nurse asks if the client is ready, then does the piercing.
Sometimes the client can fill out a "certificate of bravery" afterward.
The nurse explains aftercare, like avoiding touching the piercing and how to change the earring.
Appointment for Rowan Ear Piercing at Target
If you want to make an appointment for an ear piercing at Target, you can do it online through the Rowan website. First, go to the website and look for the "Make an Appointment" option in the top menu. Then, choose Target from the list of locations.
You'll see an option for "Ear Piercing with a Licensed Nurse at Target," and you can choose the date and time that works best for you. If you have any questions or concerns, you can always contact Rowan customer service at +1 (800) 591-3869. They will be happy to help you out.
For ear-piercing at Target, go to Rowan's website and click on the "Book Appointment" section.
Choose "Ear Piercing with a Licensed Nurse at Target."
Pick a date, time, and location for your appointment.
Enter personal information like your name, phone number, email, and zip code, and answer the piercing-related questions.
Agree to the Terms and Conditions and complete your booking.
If you need to contact Target about your appointment, call +1 (800) 591-3869 or use the "Contact Us" button on target.com.
RELATED: Ashley piercing aka Lip Piercing: A Complete Guide
Preparation Before Rowan Ear Piercing
To get your ears pierced at Target, make sure you have the right documents. If you're under 18, your parent or guardian will need to bring their ID too.
You'll also need to pay the fees with cash, debit, or credit cards. And if you have any allergies, tell the nurse before you get pierced to be safe.
ALSO READ: Nose Piercing 101: Everything You Need to Know
Rowan Ear Piercing Process At Target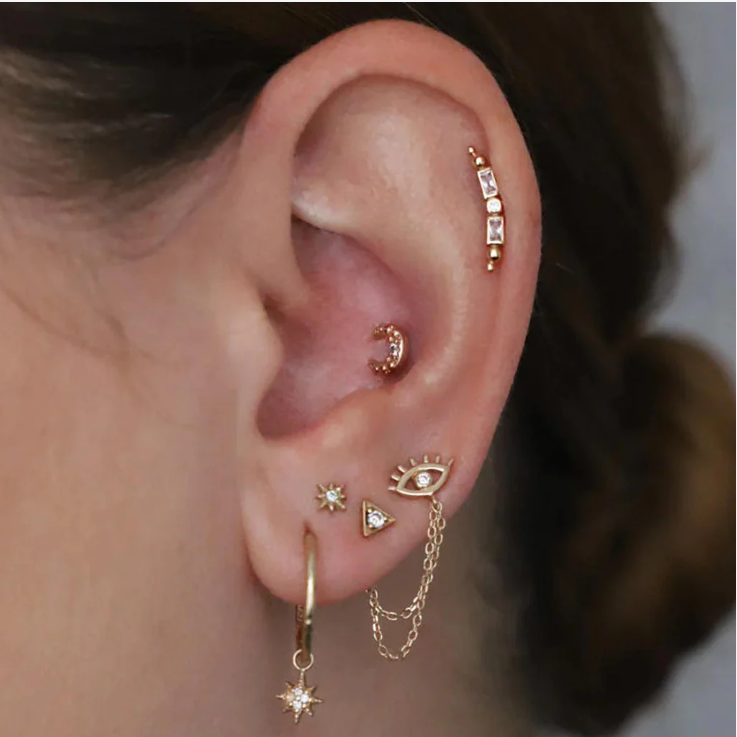 Target offers ear piercing services, including piercing the earlobe, the most popular type of piercing located at the bottom of your earlobe.
You also have the option to get a second piercing in your earlobe. If you're feeling adventurous, you can try a cartilage piercing located on the upper part of your ear.
You can get different parts of your ear pierced at Target, like the helix, mid helix, middle lobe, upper lobe, and lobe. Ear piercing at target takes about an hour to get done, but the actual piercing only lasts for less than a minute.
It feels like a quick pinch, and the pain goes away fast. Most people use studs for their first earrings.
Several types of cartilage piercings are available at Target, including the helix, tragus, conch, and daith piercings.
These ear piercings are unique and can give you a cool and edgy look, but they may take longer to heal and require more aftercare than a simple earlobe piercing.
Target Ear Piercing Aftercare
After getting your ears pierced at Target, it's essential to take proper care of your piercings to make sure they heal correctly. Here are some things you need to do:
Clean your piercings twice a day using the saline solution provided to you. This will help to prevent infection and promote healing.
Avoid touching or playing with your piercings. It can irritate the piercing site and introduce bacteria to the area.
Refrain from putting any lotions, makeup, or other products on or around the piercings. These can interfere with the healing process and may cause infection.
Sleep on your back or wear a sleep shirt to avoid putting pressure on your piercings while you sleep. This can prevent irritation and allow the piercings to heal properly.
Do not swim or soak in water until your piercings are fully healed. This includes baths, hot tubs, and pools, as the water can contain bacteria that may cause infection.
Following these ear piercing aftercare instructions will help ensure that your piercings heal correctly and avoid any potential complications.
How Long Does It Take For Ear Piercings To Heal?
It typically takes about 4-6 weeks for ear piercings to heal completely, but it's important to understand that every person is unique and may have a different healing process. Some people may heal faster, while others may take longer.
If you have any concerns about your piercings or feel like they take longer than usual to heal, it's a good idea to seek advice from a professional piercer or your doctor.
They can give you more information on how to take care of your piercings and address any concerns you may have. Remember, it's always better to be safe than sorry when it comes to your health.
What Are The Risks Involved With Ears Pierced At Target?
Getting your ears pierced may come with some risks, but they are usually minor. Piercing risks include:
Infection: This is the most common complication that can happen after getting your ears pierced. It's important to regularly clean your piercings and avoid touching them with dirty hands to lower your risk of infection.
Allergic Reaction: Some people may be allergic to the metal in their earrings. This is usually not a severe reaction and can be treated with over-the-counter medication.
Keloid Formation: Keloids are raised scars that can form around a piercing. This is more common in people with darker skin, but anyone can develop a keloid. If you are worried about this, it's best to talk to your piercer or doctor before getting your ears pierced.
It's always important to do your research before getting your ears pierced at Target (or anywhere else). Ensure you are aware of the risks and how to properly care for your piercings to avoid any complications.
Don't hesitate to reach out to a professional piercer or your doctor if you have any concerns or questions.
Is Ear Piercing at Target Safe?
When you choose Rowan for ear piercing at Target, you can trust that the people who will be piercing your ears are professionals.
These piercers are licensed and have undergone training to ensure they know what they are doing. They use sterile needles, which means there is no risk of getting an infection from the needle.
Ear piercing at Target is safe because a licensed nurse uses a special device that doesn't hurt much. Lots of people have gotten their ears pierced at Target.
There are many positive Target ear-piercing reviews out there. The best things about getting your ears pierced at Target are that it's affordable, fast, and has lots of earrings to pick from.
Moreover, they only use high-quality earrings that are made from materials that are safe for sensitive skin.
This means you are less likely to have any allergic reaction or irritation from the earrings. With all these precautions in place, you can be confident that getting your ears pierced at Target will be a safe and easy experience.
Target Ear Piercing Hours
Target Ear Piercing services are available during regular store hours, but the exact hours may differ depending on the location.
You can find the hours for ear piercing at a specific Target store using the store locator tool on the Rowan website. It is important to check the hours beforehand so you can plan your visit accordingly.
FAQs
What is the Age Requirement for Ear Piercing at Target?
To get your ears pierced at Target, you must be 12 years old. If you're under 18, you must bring a parent or guardian with you to sign a consent form.
Do I Need to Bring Anything to My Ear Piercing Appointment at Target?
You don't need to bring anything special with you to your appointment for an ear piercing at Target.
However, it's a good idea to bring your ID with you in case it's needed.
Does Target Sell Ear Piercing Kits?
Target offers ear piercing kits that contain all the necessary items for ear piercing, such as
Sterile needles,
Hypoallergenic earrings,
Ear care solutions
An instructional booklet.
These kits are available for purchase both in-store and online.
Summary
Get ear piercing at target in 50 of its stores. They have partnered with Rowan, which provides a licensed nurse to perform the ear piercing procedure using sterilized and safe earrings.
The cost of ear piercing at Target ranges from $55 to $125, including everything you need for aftercare. Ear piercing at target consists of four stages:
Engaging with the nurse.
Preparing for the piercing.
Getting the piercing done.
Taking care of the piercing afterward.
To book an appointment, visit Rowan's website and select "Ear Piercing with a Licensed Nurse at Target." It's important to take good care of your new piercing, and Target provides ear piercing aftercare instructions.
Final Words
In this post, we have discussed important information about getting your ears pierced at Target. We covered topics such as the minimum age requirement, what to bring with you to the appointment, and how to take care of your piercings after the procedure.
Our goal is to provide you with all the necessary information so that you can feel more confident and prepared for your ear piercing experience at Target. We hope this post has been helpful and informative.
Rowan Ear piercing At Target Experience