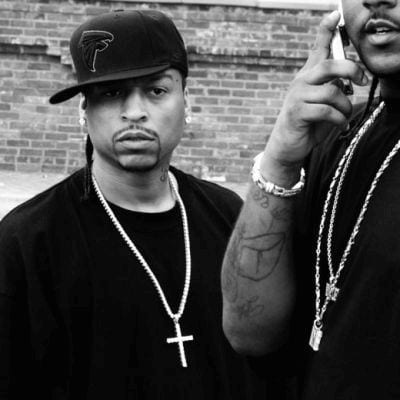 Demetrius Flenory, also known as "Big Meech," and his younger brother, Terry Flenory, also known as "Southwest T," started the Black Mafia Family (BMF) in Detroit in 1989 to make money quickly without resorting to violence. Their story inspired a drama series, BMF, which premiered in 2021 and will have a second season in January 2023. This series is so popular that a new documentary series, called The BMF Documentary: Blowing Money Fast, is also being produced by 50 Cent and is set to premiere on October 23.
Jeffrey Hirsch, the head of STARZ, said that the popularity of the BMF series shows that people are very interested in the story of the Flenory Brothers.
If you are interested in the true story of Demetrius Flenory, here are four important things to know about his life, the crimes he committed, his punishment, and his family.
Big Meech Started Selling Drugs in High School.
Demetrius Flenory and his younger brother Terry began selling drugs in Detroit in the late 1980s while still in high school. They started selling drugs because their family was struggling financially, and they needed to make money quickly.
In an interview, Demetrius said they did not want to resort to violence like robbing or killing someone, so they sold drugs instead.
They had a large drug operation by 2000 that involved distributing multi-kilogram cocaine in several states, including Alabama, California, Florida, Georgia, Kentucky, Louisiana, Michigan, Texas, Missouri, North Carolina, Ohio, and Tennessee.
In 2005, the brothers were arrested with some of their accomplices, and in 2008 they were sentenced to 30 years in federal prison.
He Laundered Money Through His Rap Label.
In the early 2000s, Demetrius Flenory started a rap label and promotions business called BMF Entertainment. The company aimed to hide and clean the money earned from drug sales.
However, the business was also successful and provided legitimate income.
BMF Entertainment worked with well-known hip-hop artists and was responsible for promoting them. The record label for the company's main artist, Bleu DaVinci, was also BMF Entertainment.
The Flenory brothers were known for connecting with famous artists such as Jay-Z, Diddy, T.I., Young Jeezy, Trina, Fabolous, and Shawty Lo.
ALSO READ: Demetrius Flenory Jr Net Worth
He Has Filed Petition Several Times to Reduce his Jail Sentence
Demetrius Flenory, or Big Meech, is currently in the Federal Correctional Institution in Sheridan, Oregon. His younger brother, Terry, was allowed to leave prison and stay home because of COVID-19.
However, Demetrius tried to do the same thing but was refused many times because he broke some rules in prison, and his behaviour showed he hadn't changed.
Despite this, his sentence was reduced by three years in June 2021 because of new laws about how long people should be in prison. He is now scheduled to be released in 2028.
His Son Lil Meech is a Successful Rapper and Actor
Demetrius Flenory has a son named Demetrius Flenory Jr., also known as "Lil Meech." He is a rapper and actor famous for playing his father's role in the BMF TV series.
In an interview with the New York Post, Flenory Jr. said that producer 50 Cent encouraged him to act in the show by suggesting he play his father's character.
Although he had no previous acting experience, Flenory Jr. wanted to do a good job and make his family proud by accurately portraying his father's character.
Lil Meech, the son of Demetrius Flenory, is an actor and rapper. He gained popularity for portraying his father in the BMF TV series. He was encouraged to try acting by 50 Cent and had no prior experience.
In preparation for the role, he took acting classes for two years, talked to his father, and watched movies like Goodfellas and The Sopranos.
Lil Meech hopes that his portrayal of his father in the TV series will give people a better understanding of who he is and not judge him based on rumours.
He believes that his father is a loving and caring person, and the story of BMF is more than just drug dealers and crime families.
Summary
Demetrius Flenory and his younger brother Terry started the Black Mafia Family (BMF) in Detroit in 1989, which grew to involve multi-kilogram cocaine distribution across several US states.
They were arrested in 2005 and sentenced to 30 years in federal prison in 2008.
Demetrius Flenory also started a rap label called BMF Entertainment, which aimed to hide and launder drug sale money but also became a successful legitimate business.
He is currently in prison and has made several attempts to leave early but was refused due to breaking prison rules.
His son, Demetrius Flenory Jr., is a successful rapper and actor who portrays his father in the BMF TV series. He hopes that his portrayal will help people better understand his father and the story of BMF beyond drug dealing and crime.
RELATED ARTICLES:
LIL MEECH'S NET WORTH, FAMILY, AND CAREER
Big Meech Net Worth – Secret Behind His Wealth
Big Meech Wife Dies – Is It True Or Not?
Big Meech Parents: Surprising Facts on Big Meech's Mom and Dad
Meet Big Meech Wife Latarra Eutsey